EMBARK ON A QUINTESSENTIAL DOWNTOWN SEATTLE EXPERIENCE AT PIKE PLACE MARKET
Located on the Seattle Waterfront near W Seattle hotel, Pike Place Market is arguably the city's most popular attraction. Watch fish mongers fling their catches into the air as you wander the market, sampling superb Seattle coffee and baked goods, noshing on farm-to-table cuisine and browsing the unique handmade wares. This is truly an iconic, not-to-be-missed Seattle destination.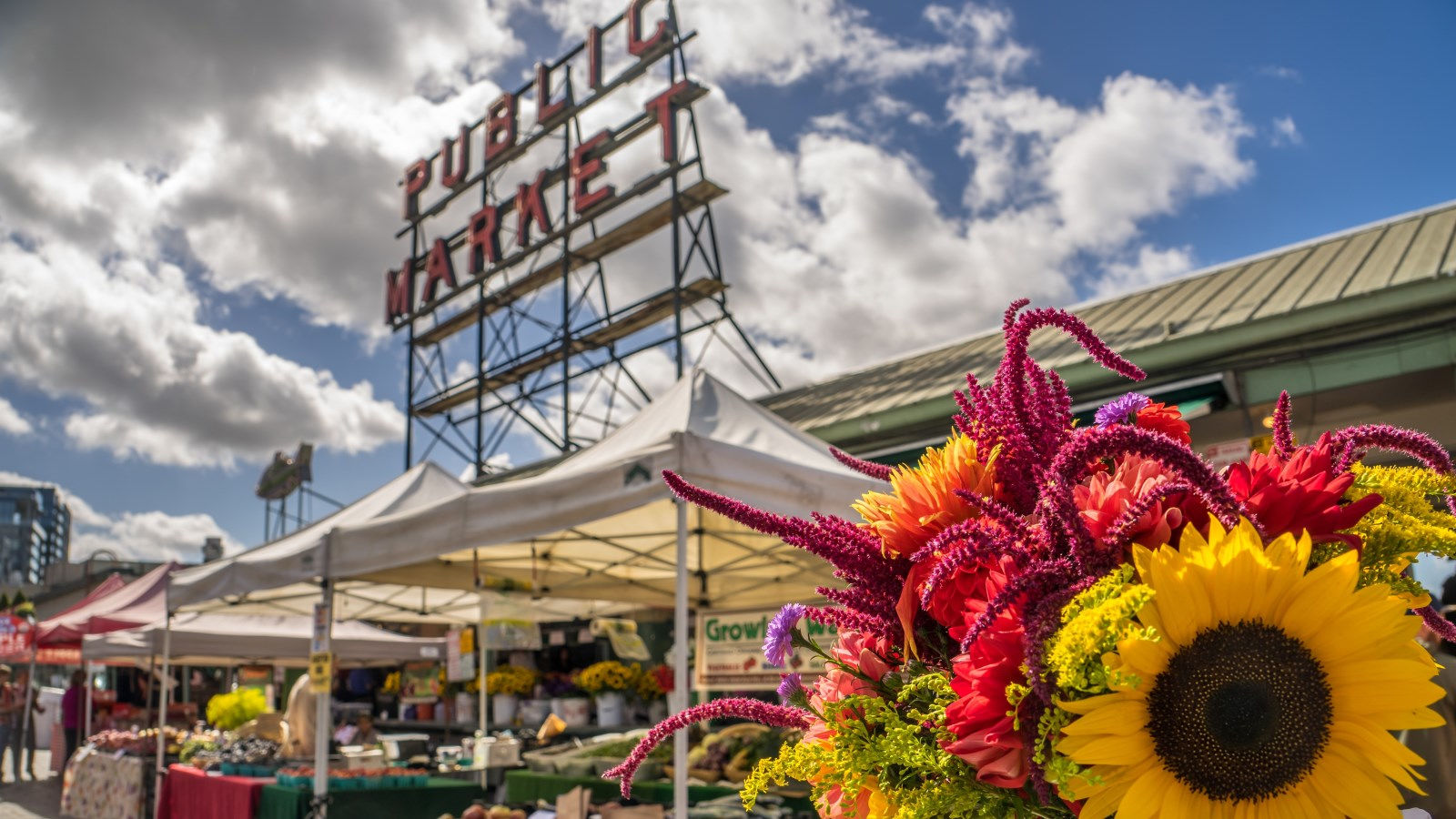 PIKE PLACE MARKET - THE HEARTBEAT OF SEATTLE
Originally opened over 100 years ago to connect farmers directly with consumers, Pike Place Market is a cultural landmark and a colorful shopping experience in downtown Seattle. Recognized as America's top farmer's market, Pike Place Market is home to more than 200 retailers and restaurants, 190 craftspeople and 100 farmers who sell everything from fish to art.
A TASTE OF SEATTLE AT PIKE PLACE MARKET
Savor a taste of Seattle at the unique restaurants and eateries of Pike Place Market, including Pike Place Bar & Grill, Pike Place Chowder, Market Grill, 94 Stewart Restaurant, Bayou on 1st and Lowell's Restaurant & Bar. Enjoy beautiful views of the Puget Sound and the best people watching in downtown Seattle while you dig into succulent seafood and sip on local brews.
OUR DOWNTOWN SEATTLE HOTEL NEAR PIKE PLACE MARKET
Located just a few blocks away from the Pike Place Market, W Seattle offers travelers to downtown Seattle a prime location from which to explore the city. After a day spent exploring Pike Place Market, return to our hotel to enjoy fresh seafood at TRACE, our signature restaurant, or sip on craft cocktails at W Bar. We also boast modern rooms and suites, a state-of-the-art FIT® gym and over 10,000 square feet of modern meeting and event space.
Pike Place Market Tours
Explore Pike Place Market on your own, or get an insider's view with a guided Market Heritage Tour led by The Market Foundation. On the tour, you'll not only learn about the history of the market, but also be privy to some quirky Seattle folklore.